Learn how to grow tulip bulbs in the water!
When growing bulbs in water, first choose a container to use for forcing. You can buy specific vases called forcing vases to grow your flower bulb indoors. These are vases that have short, narrow necks and wide mouths. They allow the flower bulb to sit with only its roots in the water.
You do not need a forcing vase to force a bulb to bloom in the water. You can also use a pan or bowl filled with pebbles. Bury the bulbs halfway into the pebbles, with the points facing up. Fill the pan or bowl with water so that the lower quarter of the flower bulb is in the water. Make sure that the pan or bowl always has water.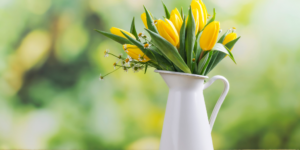 Tulips in a bolvase
Would you like tulips in a bolvase or scale? A nice tip of Buxus Bloemenatelier from Ermelo. Give Tulip overnight no water. The stem is then limp after which you can bend it into the desired shape. Cut the tulip back diagonally, then play again water.De stem reserves than its curved shape.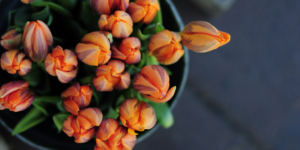 Hanging Tulips
No need for a florist! The women planted tulip bulbs in autumn and the flowers bloomed days before their wedding. Their cousins had the creative idea to hang mason jars filled with tulips around the area where the women had their ceremony.
Ultimate summery effect
Use a large clear vase where you do all kinds of tulips in various lengths. Bold and original.
For a spring wedding, we find to make it a fun combination between eg lemons and tulips for the ultimate summery effect