When you think of Hasselt, you don't immediately think of graffiti. But the opposite proves true in this city. The walls here are filled with the most colorful and artistic works of graffiti paint. Hasselt is the largest street art-city in Belgium. That makes Hasselt worth a visit!
Discover Hasselt in a unique way
There are many ways to discover Hasselt, Belgium. You can take a walking tour of the city's historic centre or visit a museum or art gallery. But why not try something different?
Take a street art tour in Hasselt!
Street art tours have become more and more popular in recent years. It's easy to see why: there's nothing quite like the rush of seeing something beautiful that you never knew existed before. And for those who love street art and want to get their hands dirty, there are plenty of opportunities to make their own mark on the world.
A street art tour in Hasselt is a unique way to explore the city, get in touch with your inner artist, and enjoy some fantastic art at the same time. You'll see everything from traditional graffiti to modern murals and 3D street art installations.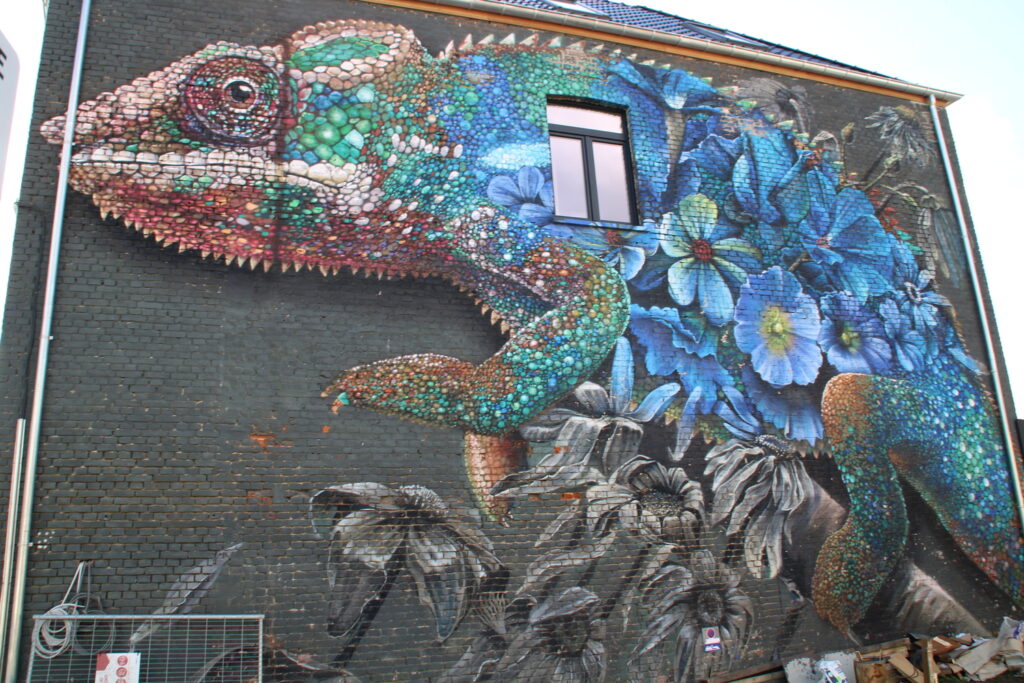 The best part of this kind of tour is that it's easy to do on your own. Just grab a map at your hotel or the tourism office and you're good to go! We found the map the most fun way because it was an old-fashioned way to explore the city. We loved not using Google Maps for once, but really exploring the streets and discovering the various works of art. There are 38 artworks marked in the centre of Hasselt with a clear route connecting the places. There is also a short description of the artwork and the artist. Learning the backstory behind the mural was fantastic; it's been a rare sight in many places with great street art!
If you want to have a more easygoing experience, you can download the app 'street art cities' and you'll be able to experience Hasselt like never before.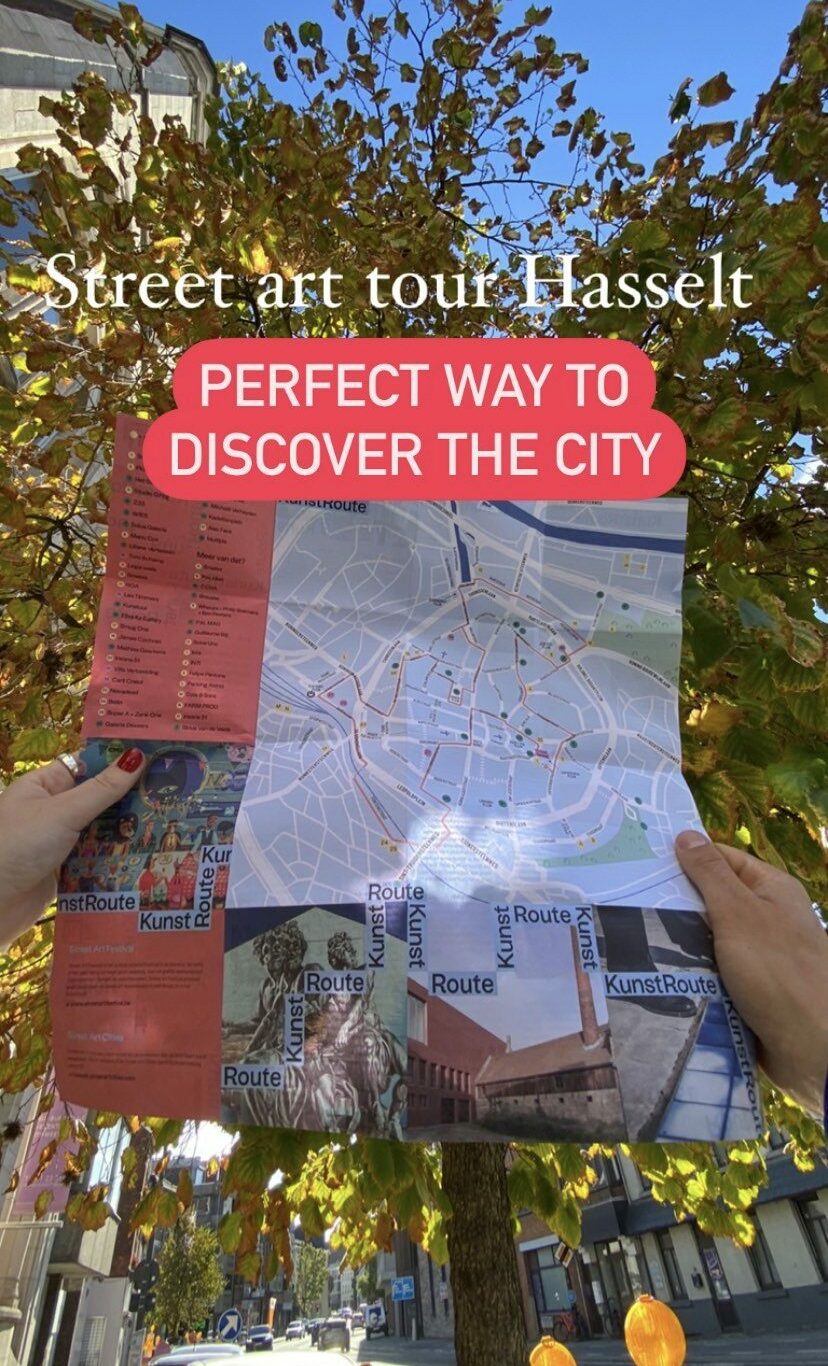 Jeffrey's and Julia's favourite artworks
What appealed to us most were the graffiti murals. The different artists introduce you to an awful lot of different styles -from realism to modern. Below we list our top three.
Kanaalkom: ROA
ROA is all about mystery… and is therefore probably the most famous street art artist from Belgium. This huge mural is painted by ROA, a graffiti artist from Ghent who does not reveal his identity. He is famous for his paintings of giant murals of animals, mostly in black and white. The 'Kanaalkom'- site will be redeveloped soon, but this malt tower with ROA's owl on it will remain preserved. ROA's art can be found all over the world, there's one in Warsaw, Lodz and Berlin.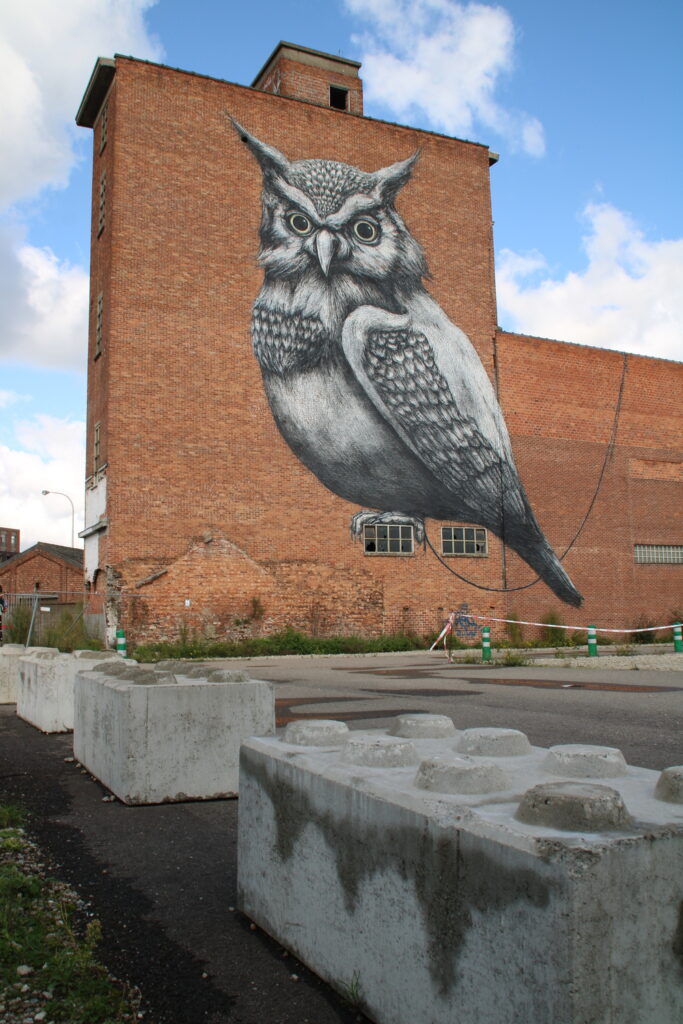 Ridder Portmansstraat: Novadead
Novadead is a Belgian artist from the Ultraboyz collective who is inspired by the cosmos, the laws of the universe as well as traditions of African tribes. Artworks with movement, speed, dynamics, geometry and fluorescent colors are typical of his work.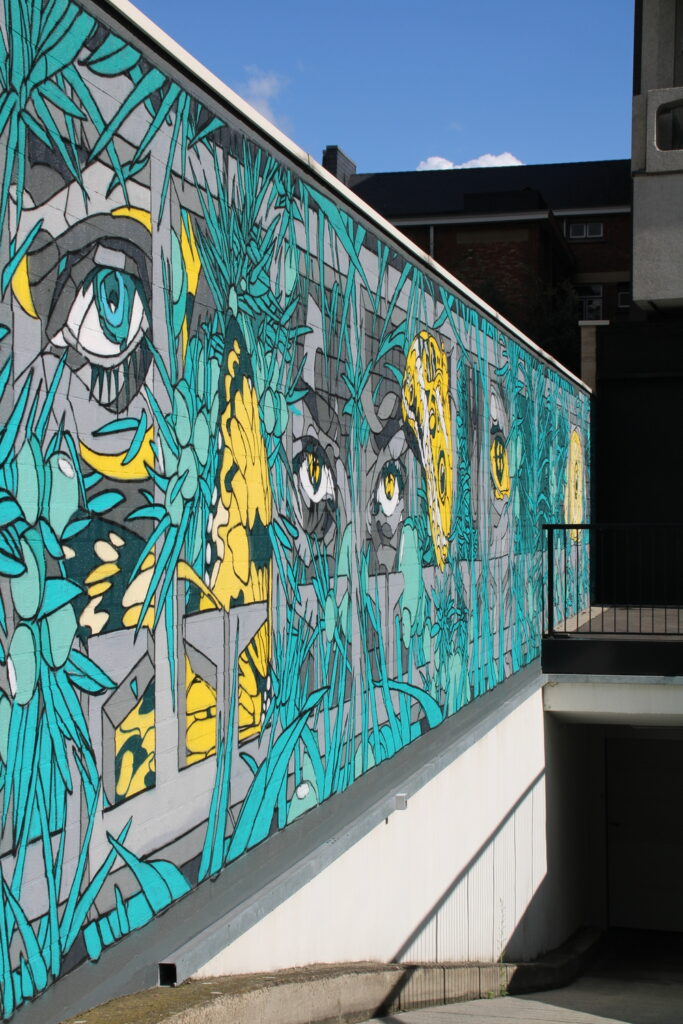 Capucienenstraat 2: Smug One
This artwork is the biggest one in Hasselt. With an area of 450m2, you will be immersed in street art. In this one, you can clearly see the realistic style of Smug One. Here, he portrays a young woman, who is an acquaintance of his.