Sunflower van Gogh – The story behind a masterpiece
The famous Sunflower van Gogh is the subject of still life paintings by the Dutch painter Vincent van Gogh. This painting is a depiction of a vase of 15 sunflowers on a yellow background. All sunflowers are already out of the bud. This painting was painted by Vincent van Gogh in 1889 in Arles.
Are you a big lover of paintings… and flowers? Click here to book your tickets!
Vincent's life
Vincent van Gogh was born in 1853 in the village of Zundert – Holland. In 1869 he started as a clerk in an art trade from his uncle. He worked there for seven years and sometimes he had to go to another branch in London or Paris. At the age of 28, he began seriously with drawing and painting.
In 1886 he goes to Paris. In 1888 he moves to the southern French town of Arles. There he is often visited by his friend Paul Gauguin. Vincent Van Gogh was mentally ill. After his hospitalization for four months, he goes to Saint-Rémy-de-Provence, where he lived in a mental hospital and only painted landscapes. One of his most famous paintings of this period was "Starry Night ".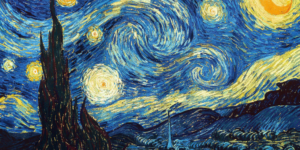 In 1890 he moved to Auvers-Sur-Oise. On July 27, 1890, after lunch, he went to a cornfield where he shot himself. From these injuries, he died on July 29, 1890.
Vincent and Sunflowers
Vincent van Gogh made four still lives of faded sunflowers. Later, he made three copies and one of them can be admired in the Van Gogh Museum in Amsterdam.
The painting is painted with oil on canvas and especially brushstrokes of paint. The Sunflower van Gogh is painted against a yellow background making it almost monochrome (one-coloured). Especially the colours yellow, ocher and brown are used. The depth is created by placing the flowers behind each other.
Van Gogh painted this masterpiece when he stayed with his friend Paul Gauguin. Vincent wanted a decoration for his bedroom and chose to paint sunflowers. Gauguin had in fact already expressed his praise, for the painted sunflowers. Van Gogh painted many of these still life. He took two good sunflower paintings to hang in his bedroom at Gauguin. The Sunflower van Gogh paintings only serve to decorate a room.
Can't wait to admire the paintings up close? Book your tickets here!