Are you looking for a unique and spectacular destination to visit in 2023? Look no further than the majestic Keukenhof in the Netherlands!
Keukenhof, also known as the Garden of Europe, is a breathtaking display of floral beauty located in the Netherlands. It is a must-visit destination for anyone who loves flowers or simply wants to experience a truly magical and adventurous day out.
The Keukenhof Gardens are located in the heart of the Dutch bulb-growing region, and it is here that millions of tulips, daffodils, and other flowers are cultivated each year. The gardens cover an impressive 32 hectares, making them one of the largest flower gardens in the world. Visitors can wander through the gardens, marveling at the endless rows of colorful blooms, or take a leisurely boat ride through the canals to see the flowers from a different perspective.
This world-renowned flower park is the perfect location to enjoy a day of sightseeing and take in the beauty of over 7 million flowers in bloom. Whether you are a nature lover or just looking for a fun-filled day, Keukenhof is sure to have something for everyone.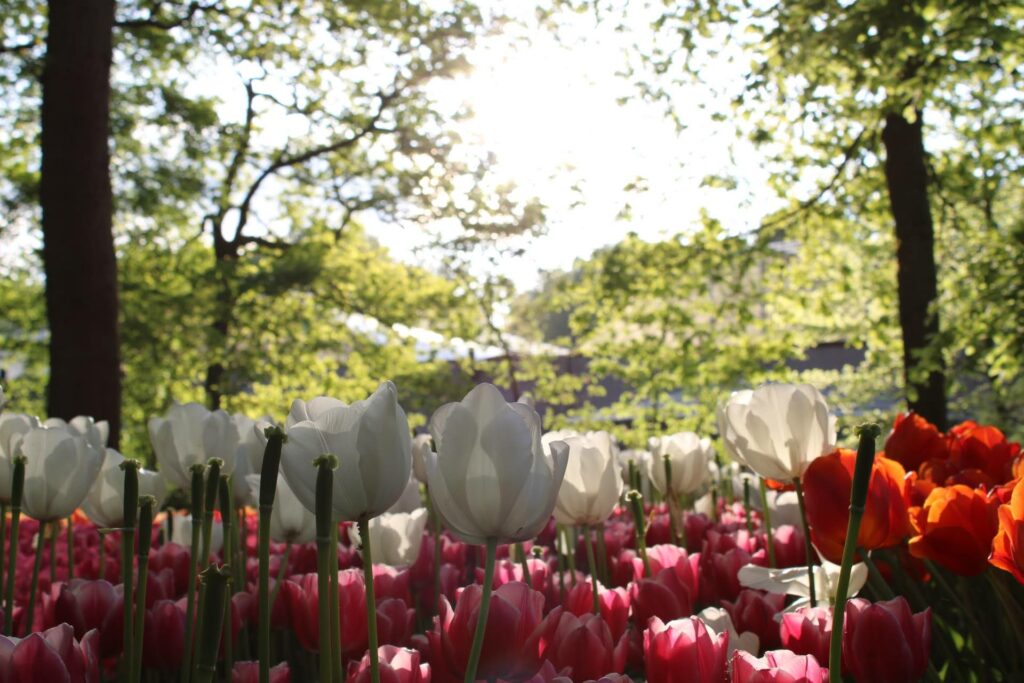 How to visit Keukenhof
Keukenhof is located in the Dutch town of Lisse, which is about an hour's drive away from Amsterdam. The gardens are open from March 23 to May 14, from 8:00 AM to 7:30 PM. You can buy tickets online through the Keukenhof website. Or buy skip-the-line tickets here. It's important to note that your ticket is only valid on a specific date and time slot during opening season.
Here are some helpful tips for visiting:
Plan ahead: Keukenhof is open from mid-March to mid-May, so plan your visit to coincide with this time frame.
Buy tickets online: Buying tickets online ahead of time will help you avoid long lines at the ticket office, and you can also get discounted prices.
Bring a picnic: Although there are restaurants and cafés at Keukenhof, it's a great idea to bring your own picnic supplies to enjoy in the gardens.
Wear comfortable clothing and shoes: Keukenhof is a large park, so you'll want to be comfortable while exploring the gardens.
Take lots of photos: Keukenhof is a photographer's dream, so make sure you bring your camera and snap lots of pictures to remember your visit!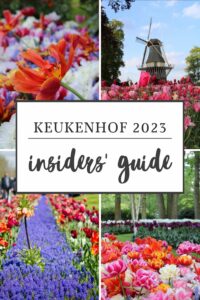 Things to do
For those looking to maximize their time in Keukenhof, there are a variety of guided tours available. Whether you are interested in flowers, art, or history, there is sure to be a tour that will suit your interests. There are also numerous shops and restaurants scattered throughout the park that are sure to provide an enjoyable experience. The park features a tulip garden, a rose garden, a daffodil garden, and more. In addition to the natural beauty, Keukenhof also has many attractions such as a windmill, a petting zoo, a playground, and a maze.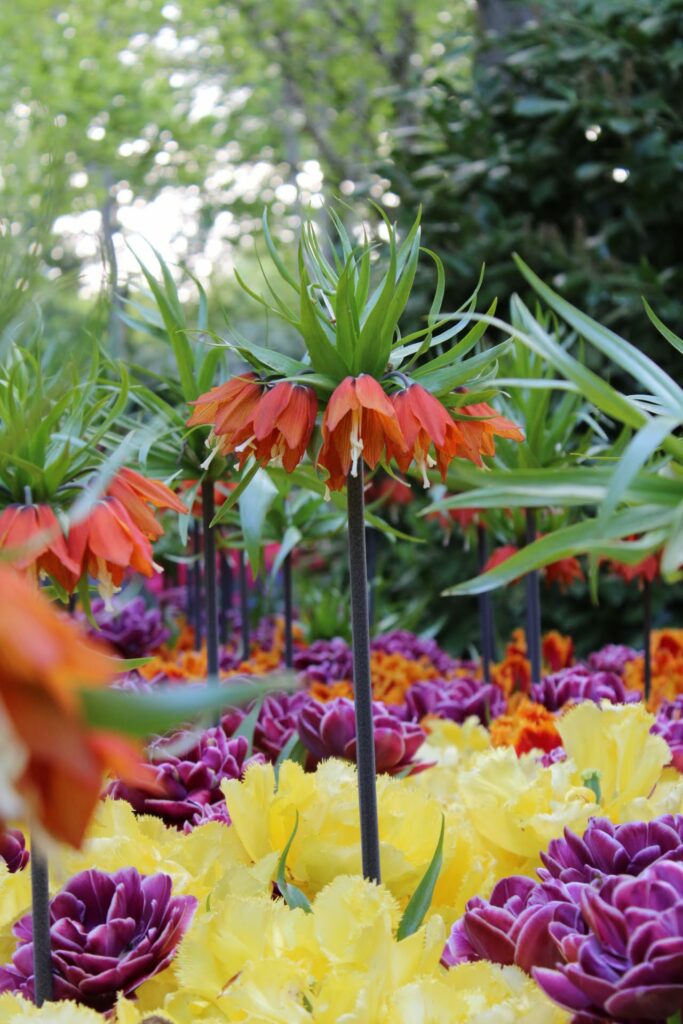 Tip from Julia: Tulip bicycle tour
Combining a visit to Keukenhof with the Tulip Bicycle Tour is a great way to explore the Dutch Bulb area. It allows you to see the gardens and the surrounding tulip fields from the comfort of a bicycle, while being guided by local experts. These guides are knowledgeable about the area's history, culture, and of course, the tulip industry. They provide insight into the different types of tulips and other flowers that are grown in the region. With the tour, you to get up close and personal with the Dutch landscape, while Keukenhof provides a chance to see the beautiful tulip fields in full bloom. With this combination, you can get the best of both worlds!
Keukenhof Castle
If you are planning a trip to the Keukenhof Gardens, make sure to include a visit to Keukenhof Castle on your itinerary. It is a beautiful and historic landmark that offers something for everyone, from history buffs to nature lovers. The castle, which was originally built as a manor house in 1641, has undergone several renovations and expansions over the years. Today, it is a stunning example of Dutch Baroque architecture, with its ornate gables, grand façade, and formal gardens. Visitors can tour the castle's beautifully decorated rooms and learn about its history from the knowledgeable guides.
Keukenhof events 2023 dates
Keukenhof is an amazing place to visit and its indoor shows are no exception. From the beautiful flower displays to the vibrant art installations, the indoor shows are truly special. Additionally, the knowledgeable guides and friendly staff are always on hand to provide insight into the various exhibitions. I hope you get the chance to experience the indoor shows at Keukenhof soon – you won't regret it!
24 March – 29 March: Tulip and Hyacinth show
31 March – 5 April: Freesia and Gerberashow
7 April – 12 april: Rose show
14 April – 18 April: Daffodil and Special Bulbs show
20 April – 25 April: Alstroemeria show
27 April – 2 May: Lisianthusshow
4 May – 9 May: Chrysanthemums and Calla show
11 May – 15 May: Carnation and summer flower show
24 March – 15 May: Anthurium show
24 March – 15 May: Orchid show
24 March – 15 May: Amaryllis show
24 March – 15 May: Potted Bulb show
24 March – 15 May: Potted Plant show